Best Music Re-Issues of 2010
Our best music re-issues of 2010 list: including British art-rock, psych-folk from Chile, French bossa-new wave, Swedish drone, American lounge folk, Jamaican dub and&nbsp
2010 was an incredible year for music re-issues. This was especially true if your net was cast far and wide out to the rest of the globe. This list represents a taxonomy of sonic styles that have come to shape the music of today; some are well known, while others were forgotten to the eroding detritus of history — that is until now. We submit to you the first installment in a three-part series on the best re-issues of 2010.
———-
Robert Wyatt of Soft Machine pedigree delivered one of the most peculiar records of the 70s with Rock Bottom: a sprawling and intensely personal work of avant garde pop that prominently featured keyboards and the type of open sonic spaces that would become a hallmark of his compositional style.
The backstory to Rock Bottom is already well documented; a violently drunk Wyatt jumped from the 4th story of a hotel and broke his spine leaving him paralyzed from the waist down. During his recovery in the hospital he re-worked songs that he had written prior to his accident — wrote new ones and learned to play piano to make up for his inability to play drums. "Sea Song," one of the finest pieces on the record, is a gripping and resonant document that reflects on the dynamic and love-torn relationship with his fiancée, poet Alfreda Benge. His whimsical and playful beseeching of his lover as a sea-creature that transforms from fish to porpoise to a baby whale is one of the most enduring and endearing lyrics set to music.
"You look different every time you come
from the foam-crested brine
It's your skin shining softly in the moonlight
Partly fish, partly porpoise, partly baby sperm whale
Am I yours? Are you mine to play with?
Joking apart when you're drunk
You're terrific when you're drunk
I like you mostly late at night – you're quite all right

But I can't understand the different you
In the morning when it's time to play
at being human for a while
Please smile!

You'll be different in the spring, I know
You're a seasonal beast
Like the starfish that drifted with the tide, with the tide
So until your blood runs to meet the next full moon
Your madness fits in nicely with my own, with my own
Your lunacy fits neatly with my own – my very own
We're not alone…"
Wyatt's inclination towards intense introspection and insularity in his lyrics sets a clear path to Thom Yorke's solipsistic abstractions and also shares much of the same tendencies that Brian Eno exhibited in his triptych of the 70s, specifically his work on Another Green World. Rock Bottom ended up being an ensemble album of psychedelic and prog rock luminaries, with Mike Oldfield on guitar, Fred Frith on viola and Nick Mason of Pink Floyd as acting producer. As a historical document it is a harrowing chronicle of an artist on the brink of despair, and as a work of music it stands as a superlative example of art-rock's extensive possibilities.
Available here.
"Sea Song"

———-
One of the most evocative and gorgeously produced folk records to have come out of Latin America was the LP Viene by the Chilean group Congregacion, an album which has been championed in the last decade by the likes of Devendra Banhart and his freak-folk acolytes.
The musicians that made up Congregacion's ranks were a loose collective of artists and wanderers that went to live in the mountains underneath the tutelage and artistic vision of lead singer and songwriter Antonio Smith. Antonio was a musician and poet who for many years was known as a mythical and elusive character within the Chilean music community due to his private and enigmatic personality.
This aspect of his nature is on full display in Viene, a record that traffics in heavily existential themes, touching upon ecology, poetry, the nature of man and his place in the cosmos. It is a completely immersive listening experience filled with otherworldly string arrangements, field recordings of nature and animals, soft cello-bass, and enchanting vocal harmonics. I have personally searched high and low for another album that delivers the same type of aural and mystic pleasures with no results. This is a record that is expansive and unbounded in every way and should not be missed.
Available here.
_______"Arrebol"_______________"Sintesis de la Existencia"

———-
Antena was a French band that released an album in 1982 that was mostly forgotten due to its prescient and unclassifiable nature; no one at the time was using analog keyboards and tethering them to Brazilian influences. Interestingly, the lead singer Isabel Antena was working as the au-pair for Rick Wakeman of prog rockers YES and was living next door to Tuxedomoon when she decided to cut a record with her two teenage friends.
The result was an unorthodox record filled with nods to bossa nova and new wave filtered through a very distinct and subtle Francophone sensibility. "Camino del Sol" is the record's stand out track and one that pre-figures Stereolab by over a decade; it's no wonder they have made mention of Antena in many interviews as an influence. This is available through the Numero Group –the elder statesmen of re-issue imprints who lovingly researched and crafted a release that includes everything Antena recorded.
Available here.
"Camino Del Sol"

———-
Parson Sound — Parson Sound
I wrote an in-depth article on Parson Sound earlier this year and my view on this band still stands. If you have any interest in psychedelic or drone rock; this is the most essential release of 2010. It is a 3 LP box set that includes everything the band ever recorded, including extensive liner notes, photos and unreleased tracks.
"In 1968 Andy Warhol invited an experimental rock group to open for his exhibition "Screens, Films, Boxes, Clouds and a Book." at the Museum of Modern Art in Stockholm. Warhol had always shown a keen aptitude for identifying musically forward-thinking artists (cf. The Velvet Underground), and when he chose Parson Sound to perform its avant-rock compositions as a prelude to his show it was no different. Formed in 1966 by Bo Anders Persson, a student of music at the Royal Academy Hall who had become disillusioned by the sterile tenor of his academic environment and who decided to form a group that would fuse minimal structures of classical music to a rock idiom and combine all this with an emphasis on euphoric states in live performance. By 1968 Parson Sound had already achieved a notoriety in Swedish circles as a compelling avant force and as such became an apt choice for Warhol's filmic art exhibition.
Parson Sound was created in 1966 after Persson attended a performance of Terry Riley's minimal masterpiece "In C," an event that changed the course of his life and by extension the Swedish underground music scene of the time. They are a group who sonically share the sensibilities of early kraut rock pioneers like Amon Duul and Kraftwerk but are relatively unknown outside collector enclaves due to the rarity and primitive nature of the recordings. Although historically they were just as innovative as Can or Faust with their focus firmly ensconced on the free and heavy exploration of sonic possibilities, their music failed to reach the masses in much the same way as they never got the chance to record in a proper studio. In this sense, they share the same terrain that is occupied by Les Rallizes Denudes, a Japanese psychedelic super group whose music is also very hard to find (the only recordings available are of their live performances). But this does not diminish the brute force and majesty of the music these pioneers created . Instead it raises their estimation in potential. If a band was so good that they became cult figures just around sub-par recordings of their live performances one can only imagine what could have happened had they ever been able to engage a proper studio."
Available here.
"Tio Minuter"
———-
Jim Sullivan's backstory is a winding narrative of a man who chased his dreams of making it big and while he rubbed up against the edges of that dream many times; for some reason he was never able to grasp success. Jim was a loner cowboy hippie who worked in and out of Nashville and Los Angeles as a lounge and folk singer — had an impromptu appearance in Easy Rider and wrote one album that was backed by the infamous Wrecking Crew (arguably the greatest group of studio musicians ever assembled sans The Funk Bros) which is now being re-issued by Light in the Attic records.
The album showcases a couple different sensibilities; Memphis soul and loungy folk-rock in the David Crosby vein. It features Earl Palmer on drums and has string arrangements that end up sounding like lost David Axelrod b-sides. There is a real warmth to Sullivan's voice, and the lyrics are indicative of a man on the run, both literally and figuratively. More crucially, this is a record that is a bird's-eye view into a Los Angeles that does not exist anymore — one in which the hippies were moving from San Francisco to Laurel Canyon, their values changing in the process. By moving away from the wide-eyed psychedelia of the 60s and into a more rough hewn and cautious earthiness Sullivan was shifting the pole of those already–in transition– musical sensibilities.
The last that was ever heard of Jim was that he checked into a New Mexico motel room and mysteriously disappeared with his keys, wallet and his car all left behind. It was a case that was seriously pursued by the New Mexico police and to this day it remains unsolved. Some fans claim he was abducted by aliens, hence the irony of him titling the album UFO and writing a song about being taken by aliens months prior to his actual disappearance. What happened we will probably never know, but what was left in his wake is a unique and rich document of American folk rock history.
Available here.
________"Jerome"_______________________"UFO"________
———-
The Psychedelic Aliens — Psycho African Beat
The Psychedelic Aliens were a quintet from Accra, Ghana who cut their teeth in the clubs of Africa by playing covers of Motown, Stax, and British Invasion rock and soul. When they got a rare chance to play a music festival in Ghana which included the likes of Ike and Tina Turner, Wilson Pickett and The Staple Singers — all first-rate acts — however it was witnessing Carlos Santana with Willie Bobo on percussion that induced a minor revelation in the band. The experience of seeing Santana play Latin American rhythms as a backdrop to rock was a pivotal moment for them, one in which they decided to abandon playing covers in the Anglo-American vein and focus instead on incorporating African poly rhythms with a heavy dose of Hendrix-influenced fuzz into their sound. (Hendrix being another critical artist they had discovered a few years before.)
Although they were largely forgotten to the annals of history, record collector Frank Gossner (a man whose adventures I have written about here) got a copy of the master tapes during his travels in Ghana, contacted the members and put together a re-issue of this incredible music on Academy Records.
It is an album that is compact (24 minutes) and does not waste any time in establishing their rhythmic or musical prowess. The drums and percussion propel most of the songs forward into a sort of manic and controlled chaos and converge with a screeching backdrop of guitars that bleed out wah and fuzz in equal measure. There is a sort of naivete at work here, as if these kids had just picked up their instruments last week and decided to punctuate the sound wall by sheer dint of a wailing and insistent energy. It is an electrifying foray into afro-psychedelia that has received lots of play this year and will continue to do so.
Available here.
"Gbe Keke Wo Taoo"

———-
Dadawah — Peace and Love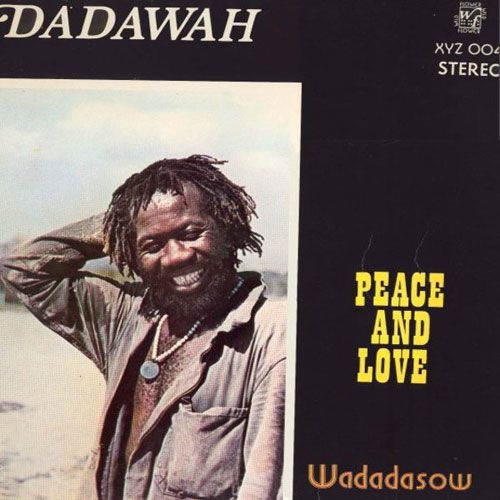 One of the more unique and revelatory pieces of music to be re-issued this year is Dadawah's Peace and Love, a hypnotic and labyrinthine slice of reggae that intersects quite neatly with the dub excursions of Lee "Scratch" Perry and King Tubby. This little heard project led by Ras Michaels was released in 1975 on Trojan Records and was remastered at Abbey Road Studios for this release. It takes the reggae mantle and elevates it through a focus not on rhythm but on sonic space. All the instruments are given breathing room and this allows the guitar work to do some very interesting things. Specifically it expands the palette of the usual reggae guitar framework– the ubiquitous and by now quite boring "upstroke"– and replaces that with a harmonically- driven and effects-laden take on individual notes, which gives the guitarist the freedom to expand and play with impressionistic splashes of color. The nyabinghi (ceremonial rasta drums) sets the frame for the listener — one that catapults him into an otherworldly realm where devotion and wisdom commingle with shamanic chanting by Ras. An enchanting listening experience and one which has set the bar high for Dug Out, the new re-issue imprint out of the UK.
Available here.
"Run Come Rally"

Tweet
Comments